IT Support Services Northern Beaches, NSW
When in search of assistance with computer systems, it's essential that you select highly trained professionals with the ability to address a wide range of issues.  That's where APG Computing comes in.  We offer full service solutions to address computer needs of residents and businesses throughout the Sydney area.  When it comes to IT support, Northern Beaches relies on us for fast, friendly service and effective results.  We've got the know how to assist with computer issues large and small.  From training on how to operate your machine to set up and configuration of your router – we've got you covered.  Read more about our scope of IT support services.
Professional IT Support for Home and Business Owners
When you're having issues with your computer system, it will most likely impact the success of your business as well as the functionality of your home.  That's why we offer fast, effective solutions in IT support services such as:
Router Setup and Configuration
File Storage and Network Printer Setup and Configuration
WIFI Setup
Firewall Organisation
In addition to IT support services; APG Computing can assist with computer training.  This is an ideal solution for users with limited computer experience seeking essential skills to make the most out of a new computer.
APG Computing: Full Service IT Support in Northern Beaches 
When you contact APG Computing, you'll receive fast, friendly service from highly trained professionals.  With our help, you can get your system back on track sooner so you'll have minimal disruption to your home or business.  We come to you – 7 days a week to offer the ultimate service with the convenience you deserve.  For assistance with IT support, contact APG Computing on 0413 583 973.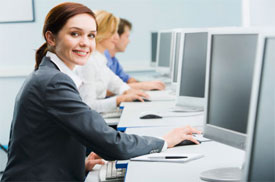 Expert IT services in Northern Beaches
At APG Computing we have been providing IT services for a very long time. Our experience with helping people has also allowed us to build what many refer to as being the best support team. However, despite being the very best we make it a point to ensure that every member of our team is put though mandatory training both in customer support as well as when there are new updates to the technology we help people with. This allows us to provide the best IT support in Northern Beaches.
So, whether you need experts to setup your new Wi-Fi router for customers at your bar or perhaps troubleshoot problems with your network server we are your best bet. Regardless, of the software or the hardware we can fix and install any computer system that you need and in a way which is most beneficial either for you as an individual or for your business.
Protect your privacy
We understand that there is a growing need for people to protect their privacy online but few people know the best way of setting up their routers and firewalls. At APG Computing we can ensure that your computers and associated firewalls are always properly configured so you never need to worry about anyone getting into your system. We can also take steps to prevent your computer system from being infiltrated by viruses and malware which is the leading cause of network down time.